Bayside

Redefining Life on
the Water's Edge.
Aqualuna is the fourth and final opportunity to live in the much sought-after Bayside Toronto community, which is reimagining, transforming and innovating the city's eastern waterfront.
Bayside Toronto will hold more than two million square feet of residential, office, retail and public spaces. This vibrant, mixed-use waterfront neighbourhood is set on a 13-acre site with a sense of familiarity and community instilled by the intricate streets, restaurants and shopping experiences—all of which are within easy reach of downtown Toronto.
Aqualuna and Aquabella marks the East corner of the Bayside development.
Along with four new condominium residences, Bayside Toronto also makes the most of sustainability and greenspace. The extension of the Water's Edge Promenade, with its stunning views of city and lake, and the creation of Aitken Place Park will see this waterfront destination draw visitors from far and wide to its shores.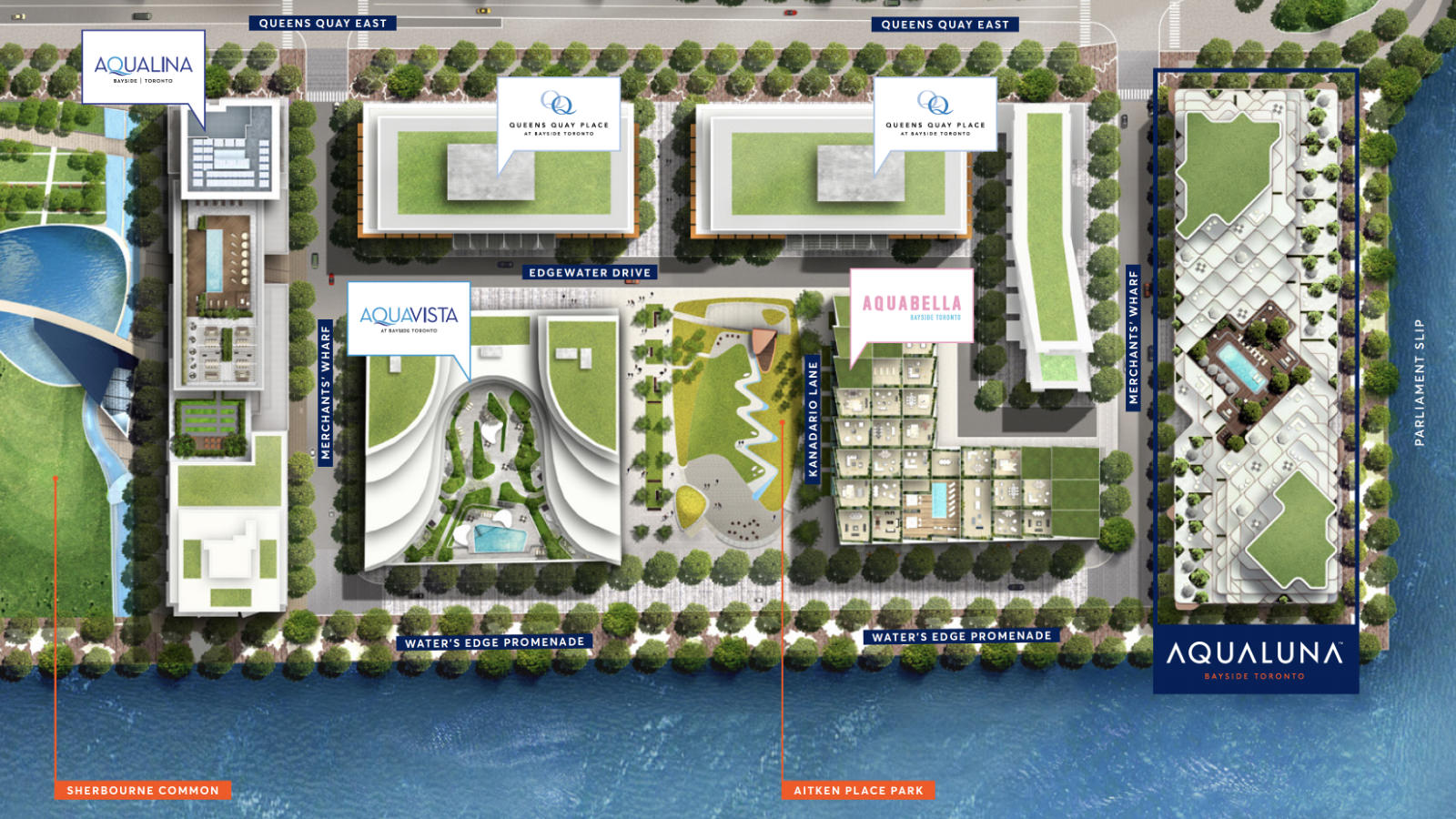 Your Future Waterfront Community.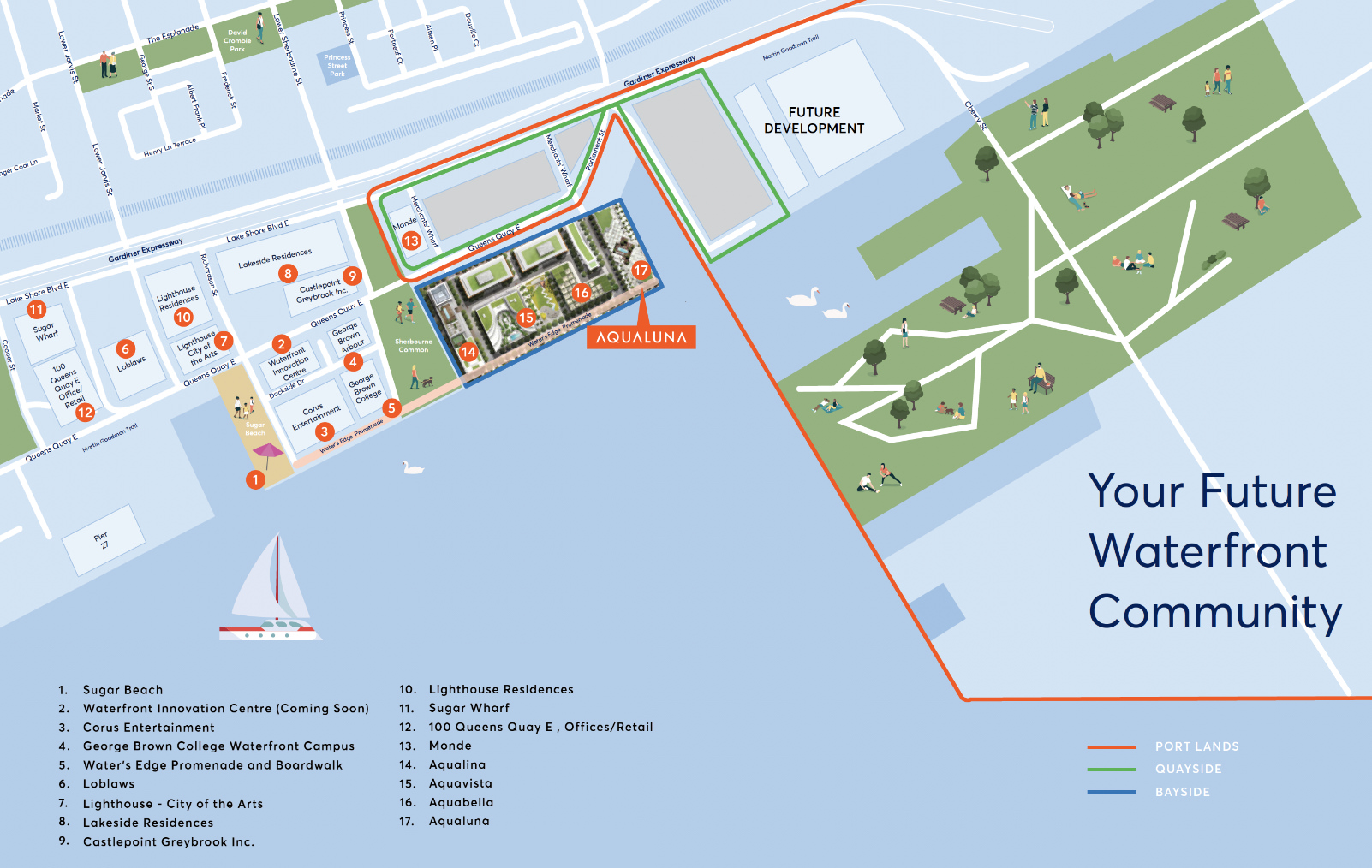 Living at Bayside Toronto, you're spectacularly located right beside the new Port Lands community along Toronto's eastern waterfront. It's an exciting time to live on the lake, as the old industrial lands are reclaimed and adapted to a 21st century lifestyle.
A LIFESTYLE THAT IS SUSTAINABLE, GREEN, CLEAN,
PROSPEROUS AND TECHNOLOGICALLY ADVANCED.
The first step in turning this vision into reality is by restoring the mouth of the Don River so it flows naturally into the lake through a flood plain. Not only will naturalized new wetlands give fish and wildlife a home, it will also channel floodwaters into the harbour, reducing the danger of flooding.
Naturalizing the Don River anchors the $1.2 billion Port Land Floor Protection Project, which includes Villiers Island among its many pioneering developments—one of Canada's first climate positive communities that will set a new global standard for urban living. This mixed-use community will have homes, workplaces, parks and lifestyle experiences connected to Bayside Toronto and the city's core. Low-carbon and sustainable, Villiers Island, with the expansive new Promontory Park and River Park, will help remove carbon dioxide from the air.
Intricate bike trails and wandering paths meander through the Port Lands, leading to a plethora of green spaces and vantage points from which to take in glorious views. From your home at Aqualuna, you can cycle along the newly completed Martin Goodman Trail, to the western or eastern beaches, and even Tommy Thompson Park. With that famous cycling trail now complete, another piece of Toronto's waterfront vision has fallen into place. For everyone using the area's roads, things will get better as well, with plans in place for Commissioner's Street to be reconstructed and Cherry Street to be realigned.
Aqualuna MAGAZINE
Browse, download, share.
474 Wellington Street West
Toronto Ontario M5V 1E3

Monday to Thursday: 11 am – 7 pm
Friday: Closed
Weekends and Holidays: 12 pm – 5 pm

By Appointment Only